Morning Activities
Riflery
Bullseye Bonanza Day!
Each period, the three rifler teams competed against each other. Every time some one shot a bullseye, it counted as one point for their team!
Dudes:
Joe Joe Mahfet- 33 & passed off pro marksman.
Griffin Albright- 35 & passed off pro marksman.
Charlie Wright- 30 & 32.
The Red Team won!
Drovers:
Cooper Kennedy- 32, 35, & passed off pro marksman.
Gray Bias- 37.
The White Team won!
Wranglers:
Will Adkins- 33.
Chris Price- passed off pro marksman.
Austin Butler- 33.
Will Fiedler- 36.
The White Team won!
Rough Riders:
Will Harris- 33.
Cooper Wyatt- 33.
Joe Druhan- 34.
Cooper Long- 34.
The White Team won!
Skiing
Upper Lake:
Clarkie Wilkinson passed off 3rd class skiing.
Hadley Harris got up on skis for the first time by herself.
Reagan Christ got up on skis for the time.

Lower Lake:
Reagan Costello passed off expert kneeboarding.
Ellen Druhan got up on skis by herself.
Wilderness Skills
The boys had Fire Day!
Tennis
Today, the girls played "Alligator." Alligator is a volleying game in which everyone lines up on one side of the net and are fed volleys. The players try to volley it back over to the singles line on the other side. If they are unsuccessful they "lose" a body-part. Once they "lose" all of the limbs, they are out of the game. The last player remaining, wins.

Here are the days winners:
1st period: Ava Gregory, EP Counts, & Emma Moose.
2nd period: Virginia Anderson.
3rd period: Ann Chason Brock, Caroline Peebles, & Stella Crane.
4th period: Skylar Spinks.
From the Dining Hall
This morning we woke up and had pancakes bacon, buttered toast, fresh fruit, juice, milk, and assorted cereals. For lunch, we had Hot-dogs, French fries, PB&J, a salad bar, and iced brownies for dessert. For dinner, we had Chicken Pot Pie, chicken casserole, beef burritos, broccoli with cheese, corn nuggets, and yeast rolls. A salad bar, PB&J, and cookies were also available.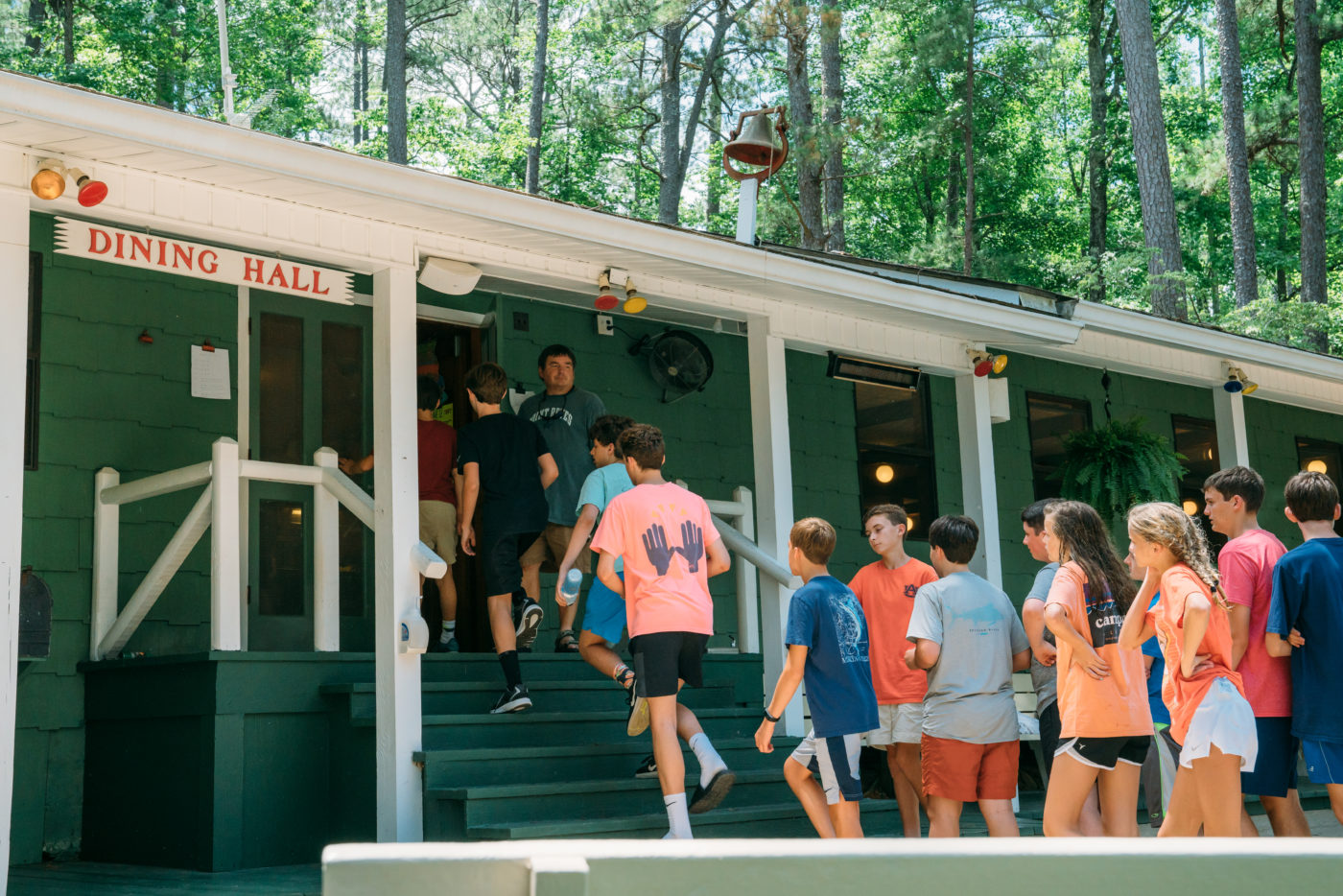 Afternoon Activities
Electives
Archery
Boys:
Gray Bias passed off Bowman.
Zachary Cater passed off Bowman First Rank Medal.
Will Fiedler passed off Archer.
Baden Wallace passed off Archer First Rank Medal.
Kyle Norris passed off Archer Sharpshooter.

Girls:
Joan Taylor passed off Bowman.
Mary Virginia Huffaker passed off Bowman First Rank Medal.
Lilla Walker passed off Archer.
Sarah Beth Rikard passed off Archer.
Team Roping
Adventure
Adventure went to the Zip-line, and played Balls of Glory. In this game, the person going down the zip-line tries to catch as many ball as they can, which are thrown by the other campers that are not zip-lining.

Boys:
Hudson Tucker, Preston Kennedy, Spencer Instead-Jacks, and Jonathan Tebo caught 4 out of 6 backs.
Chris Price caught 5 out of 6 balls.

Girls:
Kendall Gilreath caught 4 out of 8 balls.
Elizabeth Kell and Sophie Dishman caught 5 out of 8 balls.
League Games
On Court 1, Maiya's Fiya Papayas roasted In It to Win It in a cool game of Volleyball. Nancy Laughbaum was a beast from the Papayas; and Kendall Gilreath was in it to win it.

On Court 2, Yanny sauced Meggo's Eggos! From Yanny, Kate Wallace played like a freshly opened expo marker! From the Eggos, Maggie Maley played like a young Phineas Taylor Barnum.

On Field 1, Chappy's Champs demolished Wiedmer's Winning Witches. From the Champs, Anderson Long's kicks were amaze-balls; and from the Witches, Ivey Marston played like a young Maiya Sokol.

On the Soccer Field, Jenna's There's Snow-losing defeated Ada's Bettas in an intense game of soccer. From Ada's Bettas, Caroline Peebles was divine; and from There's Snow-losing, Julia Ronning played like a snowman on a winter's day.

In the Gym, Cayden's Cam-uh-Wins crunched The Pain is in The Sprain in an intense game of bombardment. From the Sprains, Caroline Calhoun played dashingly. From the Cam-uh-Wins, Lilla Walker played like she had the moves like Jagger.
Cabin Time
While the boys were at League Games, the girls had Cabin Time!

B-5 & B-4 faced-off at the Beanbag Battlefield.
B-3 went to the pool.
B-2 went to the Iceberg.
B-1 went to the Skyrider.
Chinnabee went to the Obstacle Course.
B-0 had rapelling.
6 O'clock News
Our Campers that have been coming for 6 years received their 3yr shirts tonight.

Boys:
Samuel Becdach
Will Beringer
Austin Butler
Barr Chavers
Jack Dinsmore
Riley Dinsmore
Joe Druhan
Angus James
Cooper James
Sig James
Preston Kennedy
Whtiman Rikard
Hudson Tucker

Girls:
Sofia Anderson
Emily Brewer
Alyssa Burleson
Caroline Calhoun
Stella Crane
Mary Jack Gordon
Ava Gregory
Rosemary Gross
Sarah Kate Harris
Claire Hillman
Sarah Inskeep
Sophia Lanier
Maggie Male
Mary Catherine Martin
Brabee Pirnie
Ally Richards
Adeline Sinkwich
Olivia Tucker
Parker Whittington
Vespers
Tonight our speaker was Nathan Denson, and our choir was G-4.
Tonight For Night Rec, We Got...
Junior Cabins
College Night!
Senior Cabins
The boys went to the pool for swim meet practice, and the girls went down to the courts!
Visit our Photo Gallery to see the day's pictures! (Images do not necessarily corellate with the names of campers mentioned in corresponding news article.)