Morning Activities
Riflery
Dudes:
Ivey Marston- passed off pro marksman
Sara Marcato- 30
Lily Close- 40 & passed off marksman
Ellie Mostellar- 32
Drovers:
Taylor Goodrich-37
Katie Brown- 33 & 36
Peyton Frazer- 42
Anne Roberds- 30
Mattie Bingham- 30
Wranglers:
Paige Stewart- passed off marksman
Mary Jack Gordon- 41 & 43
Nancy Laughbaum- passed off marksman 1st class
Rough Riders:
Sophie Dishman- 33
Virginia Anderson- 40 & 41
Emily Daniel- 30
Lilla Walker- 30
Brooke Oakley- 31
Mary Katherine Martin- 31
Skiing
Upper Lake:
Chris Price, Charlie Walker, Griffin Albright, Benji Sokol, & Christopher Snow all passed off 3rd class kneeboarding.
Cooper Long & Jackson Pipkin passed off 1st class kneeboarding.
Webb Bennett passed off 3rd class wake-boarding.
Anson Soscia passed off 3rd & 2nd class wake-boarding.
Spencer Marston passed off 2nd class wake-boarding.
Cooper Wyatt passed off 2nd class skiing.

Lower Lake:
Ethan Yi passed off 1st class kneeboarding.
McNeil Mostellar passed off 3rd classing wake-boarding.
Baden Wallace passed off expert wake-boarding.
Angus James passed off 3rd class skiing.
Barr Chavers & Kade Hudson passed off 1st class skiing.
Wilderness Skills
Today, the girls went to High Falls!
Tennis
Today, the guys played "Alligator." Alligator is a volleying game in which everyone lines up on one side of the net and are fed volleys. The players try to volley it back over to the singles line on the other side. If they are unsuccessful they "lose" a body-part. Once they "lose" all of the limbs, they are out of the game. The last player remaining, wins.

Here are the days winners:
1st period: Jake Spear, Kade Hudson, and Riley Dinsmore.
2nd period: Robert Huffaker and Grant Steed.
3rd period: Ethan Yi, Charlie Wright, and Grayton Goldsmith.
4th period: Gray Bias, Mack Marston, and Wyatt Long.
From the Dining Hall
This morning we woke up and had blueberry muffins, bagels, cream cheese, fresh fruit, juice, milk, and assorted cereals. For lunch, we had chicken sandwiches, potato chips, PB&J, a salad bar, and iced brownies for dessert. For dinner, we had Salisbury steak, mashed potatoes & gravy, green peas, fried okra, and yeast rolls. A salad bar, PB&J, and cookies were also available.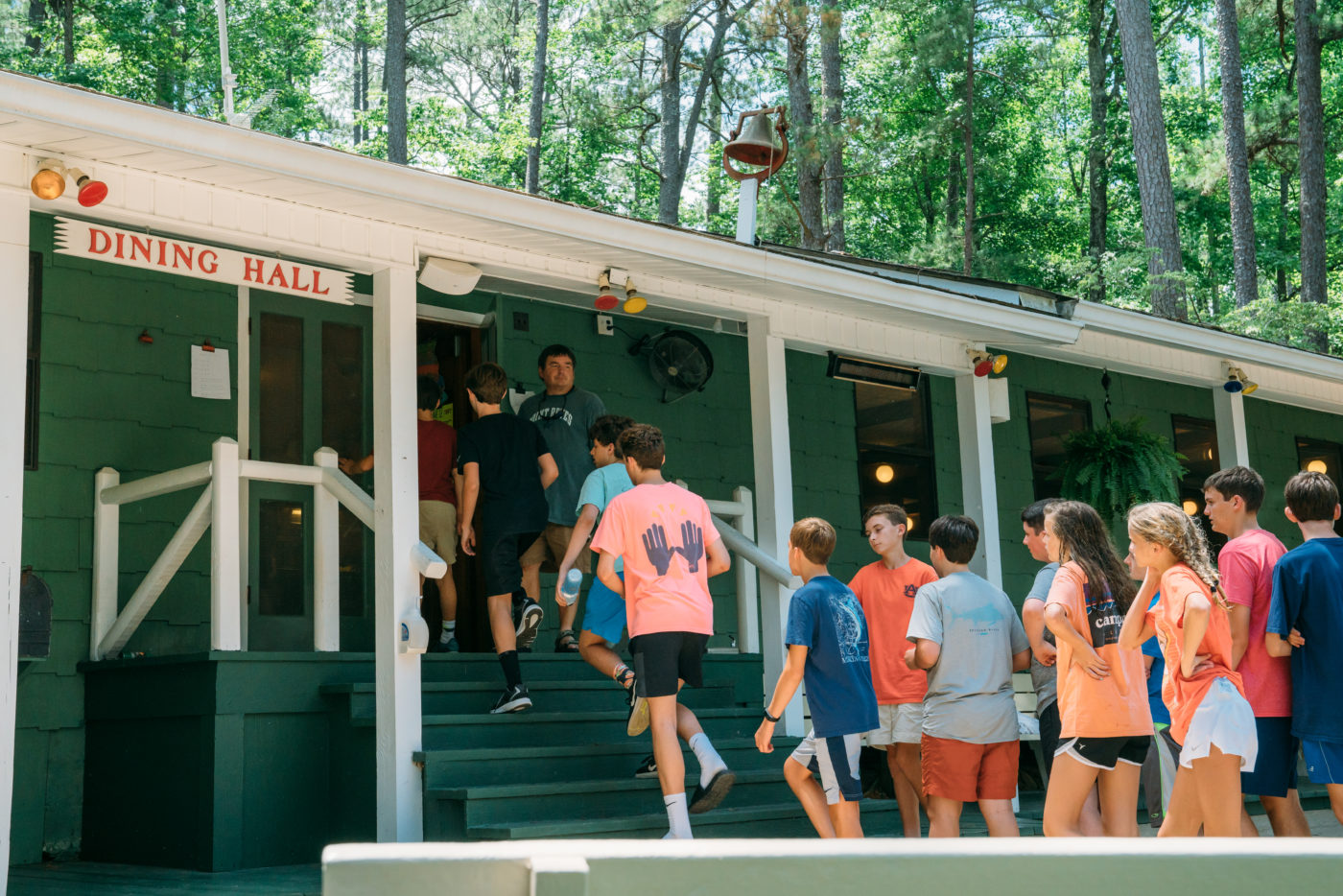 Afternoon Activities
Electives
Tramps
Boys:
Joe Joe Mahfet passed off 2nd class.
Benji Sokol passed off 2nd class.
Caven Burdick passed off 2nd and 1st class.

Girls:
Sophie Robbins passed off 1st class.
Adventure
Adventure went to the Skyrider today!
League Games
On Court 1, The Cavemen carried Cary Me to Victory down to sudden death. Zachary Cater played like a young Matthew Cater. Sims Druhan played like an MVP.

On Field 1, Campbell's Soup boiled Jackson's Cutie-pies in a bombastic game of softball. From Campbell's Soup, Jacob Price played like he was in a dinger contest. From the Cutie-pies, Hudson Tucker played great.

On Court 2, Slade's Savage Slayers devoured the Cheaha Gators in an intense game of Newcomb. From the Gators, Charlie Kane played like a boss. From the Slayers, Anson Soscia played like a young Connor Soscia.

On the Soccer Field, Will Kell's Will Kells hustled all over Hay's Hotties in an ultimate game of Ultimate Frisbee. From the Will Kells, Ben Arnold snagged a ton of frisbees. From the Hotties, JD Lewis played like a young Bo Alfredo Rodriguez Martinez.

Cabin Time
While the boys were at League Games, the girls had Cabin Time!

G-4 & G-3 faced-off at the Beanbag Battlefield.
G-2 went to the pool.
G-1 went to the Iceberg.
Oakridge went to the Skyrider.
G-0 went to the Obstacle Course.
Lake Cabin had rapelling.
Vespers
Tonight our speakers were Lee Chapman Parks and Yates Holley.
Tonight For Night Rec, We Got...
The Drought Party!
Visit our Photo Gallery to see the day's pictures! (Images do not necessarily corellate with the names of campers mentioned in corresponding news article.)