Morning Activities
Riflery
Dudes:
Charlie Wright - passed marksman.
Max Montgomery - 35.
Wesley Smith - passed marksman.
Tav Shaffer - 33.
Drovers:
Andrew Wallace - 36, 40, 32, & passed marksman first class.
Sig James - 37 & 37.
Anson Soscia - 32.
Boon Bickerstaff - 32.
Wranglers:
Ethan Yi - 32 & passed marksman first class.
Will Fiedler - 37 & 38.
Brandon Huff - 39 & 30.
JD Lewis - 35.
Will Adkins - 34 & passed marksman first class.
Rough Riders:
Riley Christ - passed marksman.
Will Harris - 44 (new summer high for boys).
Joe Druhan - 31.
Hudson Tucker - 37.
Skiing
Lower Lake
Reagan Costello passed third class skiing & first class wake-boarding.
Ellie Mostellar passed second class wake-boarding.
Maggie Maley passed first class kneeboarding & second class wake-boarding.
Ellen Druhan, Rhea Mostellar, & Anderson Long passed second class kneeboarding.
Elizabeth Kell passed first class skiing.
Sadie Carrington passed expert skiing.
From the Dining Hall
This morning we woke up and had Blueberry muffins, fresh fruit, juice, milk, and assorted cereals. For lunch, we had Taco Salad, PB&J, a salad bar, and banana pudding for dessert. For dinner, we had BBQ Chicken, BBQ ribs, baked beans, potato salad. A salad bar and chocolate cake was available.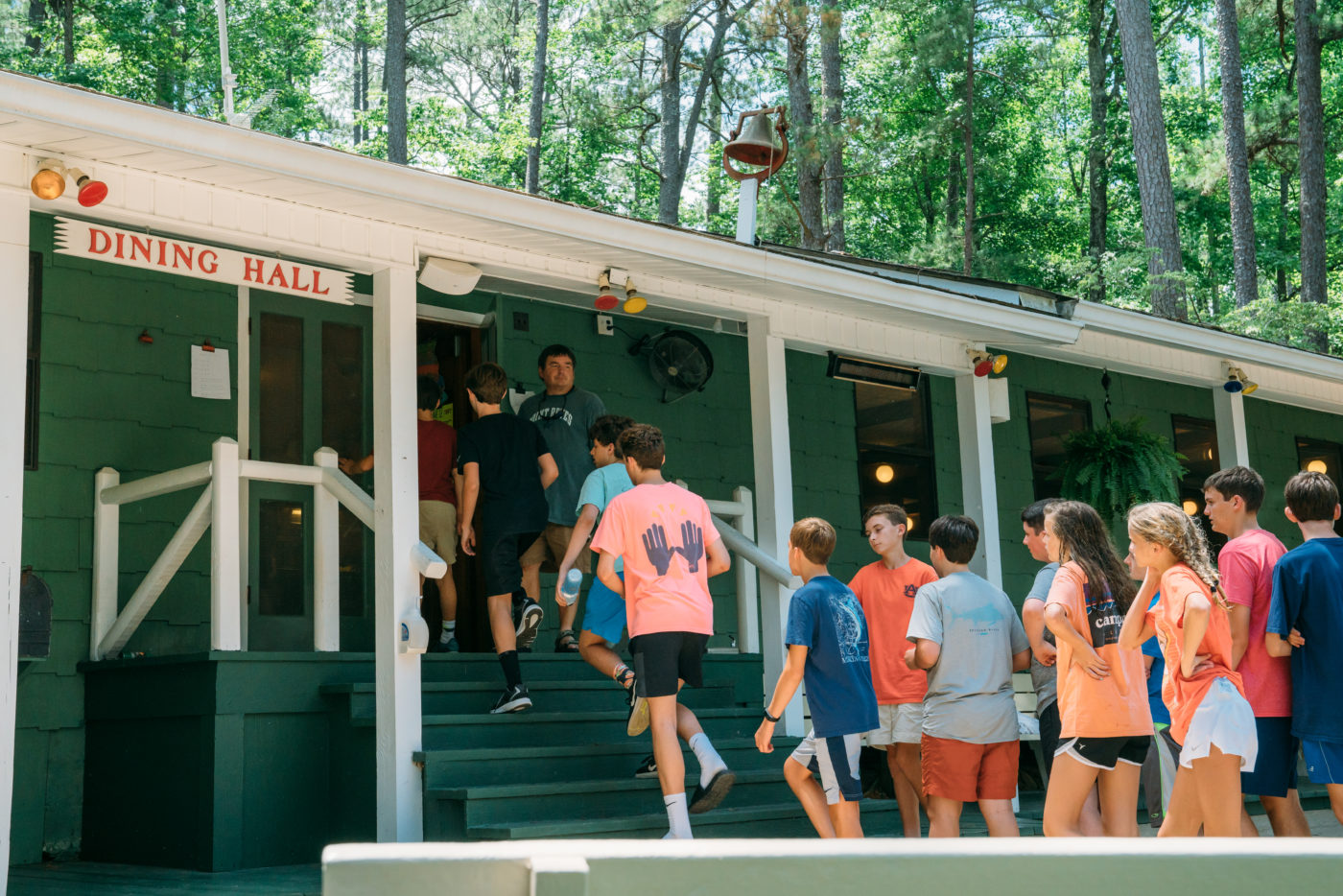 4th of July Parade
Afternoon Activities
Electives
Shooting Sports
Boys:
Mason Victory shot 20/32.
Jack Miller shot 26/36.
Joe Druhan shot 10/20.
Cooper Wyatt shot 26/32.
Cooper James shot 26/36.

Girls:
Julia Widener shot two.
Elizabeth Kell (Chippy) shot six.
Kate Wallace shot eight.
Ella Gehring shot nine.
Sophie Dishpan shot four.
Maggie Maley shot one.
Chloe Shaffer shot seven.
Archery
Boys:
Austin Butler passed off bowman first rank.
Dakota Longshore passed off bowman sharpshooter.
Rylan Pettus passed off archer first rank.

Girls:
Sutton Dodd passed off junior yeoman arrow.
Reagan Christ passed off yeoman.
Lily Brown passed off yeoman.
Maddy Smith passed junior bowman arrow.
Evie Tuten passed off bowman first rank.
Putt-Putt
Today was Masters qualification day.
Boys:
Baden Wallace & Jake Spear.
Cooper Long also got six holes-in-one

Girls:
Claire Hillman & Anna Brown.
Cabin Time
During Cabin Time, we gave out some awards.
Steak Dinner
Tonight, our League Games winners enjoyed steaks on Margie's back porch.
Vespers
Tonight, Our speakers was Carolyn Cowper, and our choir was all of our last year campers.
Tonight For Night Rec, We Got...
Senior Cabins
The Seniors had Rec Hall one last time!
Junior Cabins
The Juniors had Coke Night!
Firework Show
Visit our Photo Gallery to see the day's pictures! (Images do not necessarily corellate with the names of campers mentioned in corresponding news article.)