Lazy Day!
Ski Party
The 9th Graders went down to Upper Lake for some tubing and skiing. Afterward, they rode out to the Cove and grilled out on the lake.
While the 9th Graders were down at the lake, the rest of the campers enjoyed sleeping in late and free-time until lunch.
From the Dining Hall
This morning we woke up and had Pancakes, sausage, fresh fruit, juice, milk, and assorted cereals. For lunch, Taco Salad, PB&J, a salad bar, and iced brownies for dessert. For dinner, we had country fried steak, mashed potatoes, English peas, fried okra, and yeast rolls. A salad bar, PB&J, and cheesecake were also available.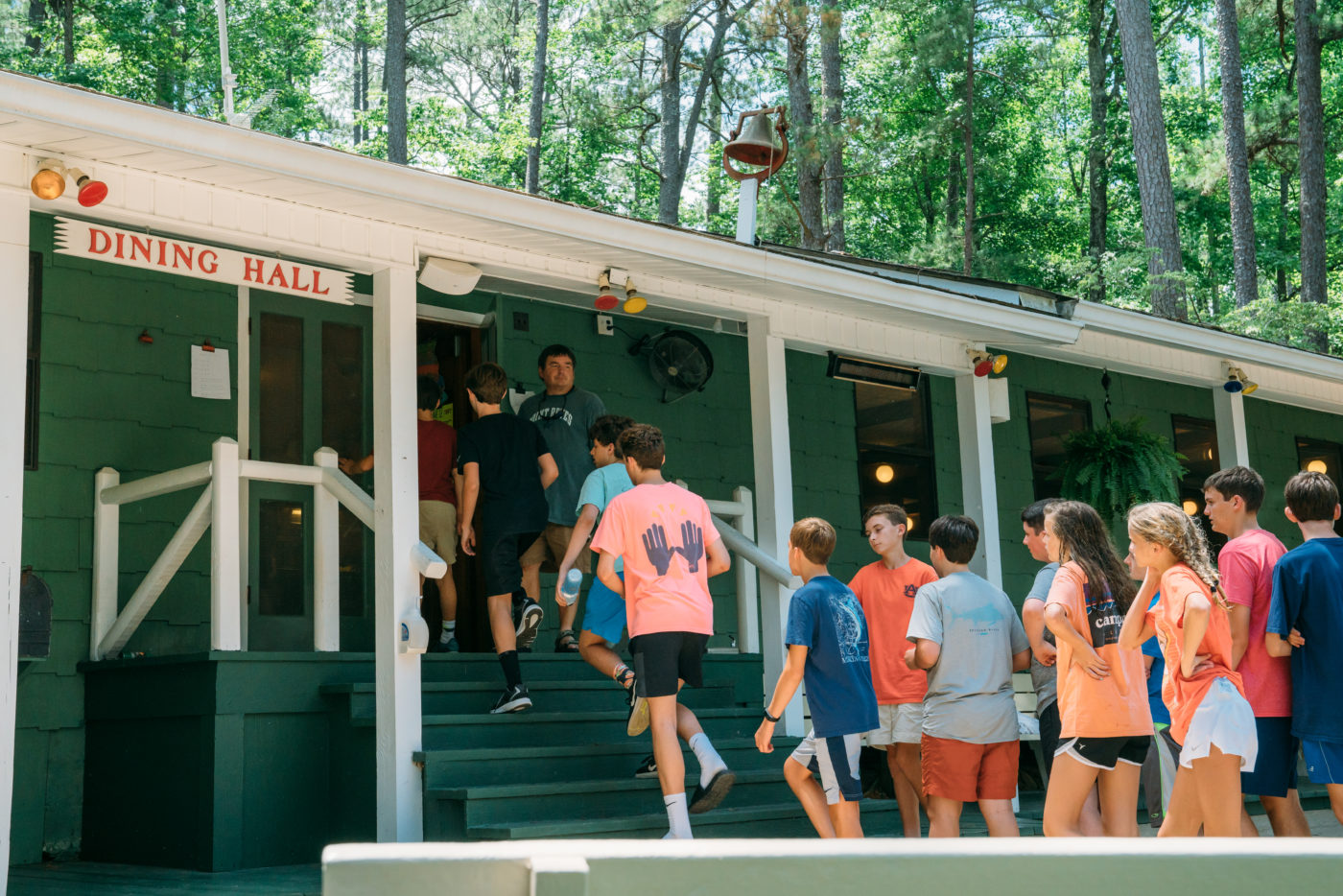 Afternoon Activities
Electives
After lunch, we resumed with our daily afternoon program.
Shooting Sports
Boys:
Patrick Bingham shot 5/30
Logan Mastaw shot 10/30
Sam Becdach shot 15/30
Matthew Cater shot 13/30
Riley Christ shot 22/30

Girls:
Paige Stewart shot 11/28
Kate Wheeler shot 17/28
Kate Sokol shot 6/28
Sarah Beth Rikard 20/28
Kendall Gilreath 3/28
Tramps
Boys:
John Weil passed off 1st class.
Chris Price passed off 1st class.

Girls:
Anna Brown passed off 3rd class.
Reagan Christ passed off 3rd class.
Fishing
Boys:
Caven Burdick caught 1 fish.
Mack Marston caught 1 fish.
Max Montgomery caught 1 fish.
Sims Druhan caught 1 fish.

Girls:
Sara Marcato caught 1 fish.
Archery
Boys:
Christopher Snow passed off Jr. Yeoman.
Ethan Yi passed off Jr. Yeoman Arrow.
Griffin Albright passed off Jr. Yeoman Arrow.
Yates Holley passed off Bowman Sharpshooter.

Girls:
Sklyar Spinks passed off Jr. Yeoman.
Rylan Ross passed off Jr. Yeoman Arrow.
EB Maultsby passed off Jr. Bowman Arrow.
Ashley Costello passed off Bowman.
Sarah Inskeep passed off Bowman First Rank Medal.
League Games
On Court 1, Hays' Hotties beat Will Kell's Will Kells in a one-sided game of volleyball. From the Hotties, JD Lewis played like he got a new pair of shoes; and from the Will Kells, Lukas Yi played swimmingly.

On Court 2, Campbell's Soup beat Jackson's Cutie-pies, with Kade Hudson playing like he was Tim Hudson's son. Preston Kennedy played like an angry mango.

On Field 1, Slade's Savage Slayers feasted on the Cheaha Gators in an amazing game of softball. From the Slayers, David Wood played outstanding; and from the Gators, Max Ronning killed it.

In the Gym, Cary Me to Victory carried the Cavemen to an L. Jack Dinsmore played like a young Will Dinsmore. Wyatt Long played like a more athletic Cooper Wyatt.
Cabin Time
While the boys were at League Games, the girls had Cabin Time!

G-4 & G-3 faced off at our life-sized Foosball Court.
G-2 went to the Obstacle Course.
G-1 went to the Blob.
Oakridge went to the Wet Willie.
G-0 went to the Iceberg.
Lake Cabin had Rappelling.
Vespers
Tonight our speaker was Kinley Campbell, and our choir was Oakridge.
Tonight For Night Rec, We Got...
Junior Cabins
The Juniors had 90s Night!
Senior Cabins
B-0, Chinnabee, Lake, & G-0 went to the pool for a night swim.
B-1, B-2, Oakridge, & G-1 went down to the courts.
Visit our Photo Gallery to see the day's pictures! (Images do not necessarily corellate with the names of campers mentioned in corresponding news article.)