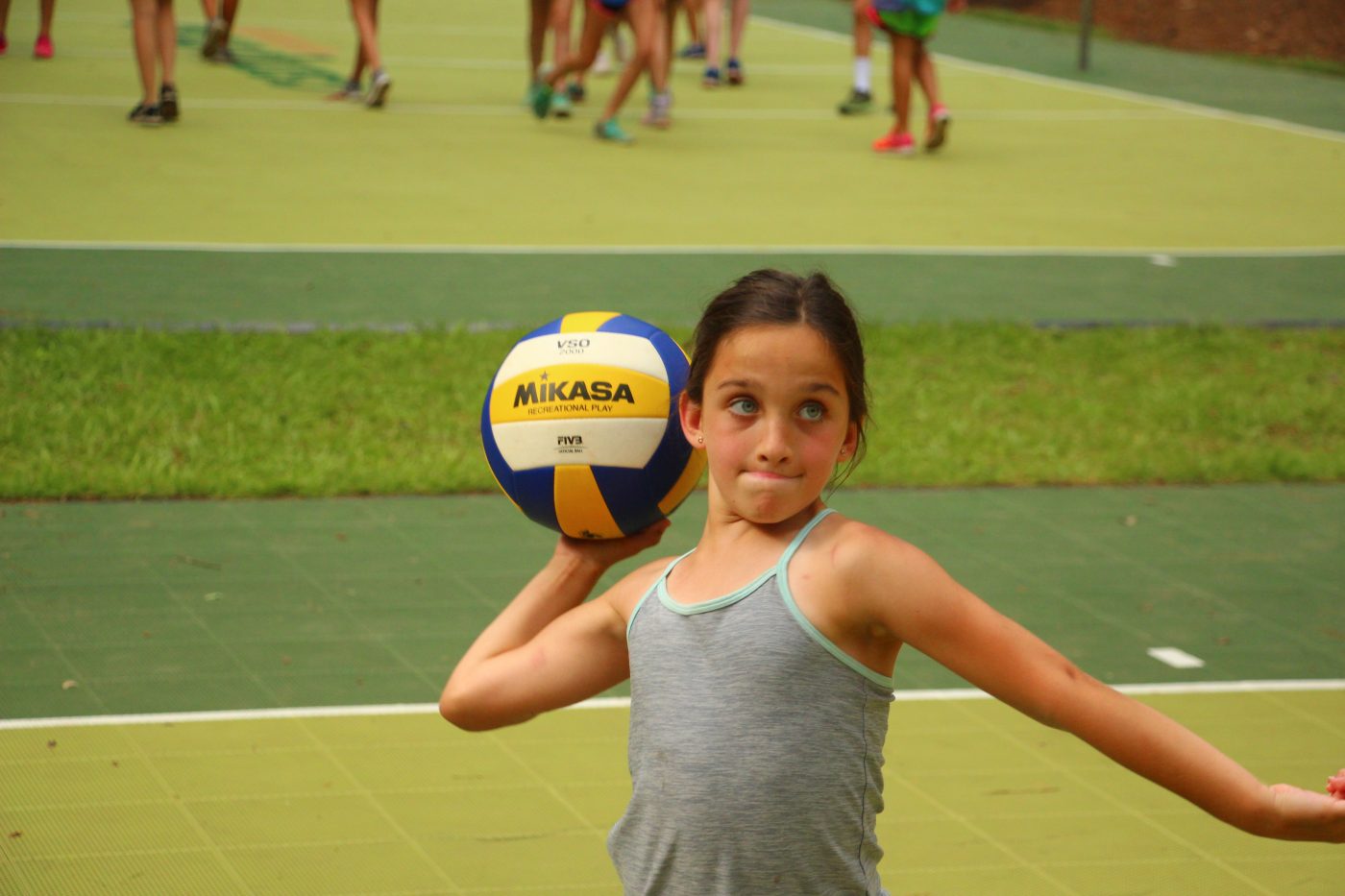 Morning Activities
Skiing
Today at Upper Lake, Mali Cofield got up on skis for the first time!
Today at Lower Lake, we had some campers passing off classes!
Kate Moreland - 3rd Class Wakeboard
Hadley Frankland - 2nd Class Wakeboard
Rosemary Gross - 3rd Class Skiing
Ann Chason Brock - 2nd Class Kneeboard
Kendall Gilreath - 3rd Class Skiing
Paige Stewart - 2nd Class Skiing
Riflery
Today at Riflery, we had some awesome scores!

Austin Butler - 36
Sig James - 38, 35
Baden Wallace - 35
Ben Arnold - 37
Jack Dinsmore - Pro-Marksman
Trace Fletcher - 38
Mason Victory - 36
Tripp Miller - 37
Jack Miller - Marksman 1st Class
Cary Pick - 35
Jackson Graham - 39
William Wood - 38
Adam Stremmel - 39
Fun & Games
Today at Fun & Games, the girls went to the Camp Mac Country Club to play Putt Putt. They had some Dropout Contests, and the winners were: Kendall Gilreath, Maddy Johnson, Katie Fish, and Laurel Burkhardt.
Tennis
Today at tennis, we played some Hit the Basket and Drop Out! The winners were:

Claire Hillman, Sarah Inskeep, Abigail Swain, Libby Jacobs, Marella Hudson, Emily Daniel, Elizabeth Kell, Olivia Adams, Virginia Anderson, Brooke Oakley, Sophie Dishman, Kylie Thomas, Brabee Pirnie, Marian Bennett, Coleman Speir, Ada Bickerstaff, Parker Whittington, Caroline Calhoun, and Caroline Peebles.
From the Dining Hall
This morning, we had Scrambled Eggs, Bacon, Grits, Toast, Juice, Milk, and Assorted Cereal for breakfast. For lunch, we had Sloppy Joe's, French Fries, a Salad Bar, PB&J, and Chocolate Cake for Dessert. For supper, we had Red Beans and Rice, Cornbread, a Salad Bar, PB&J, and Carrot Cake for dessert.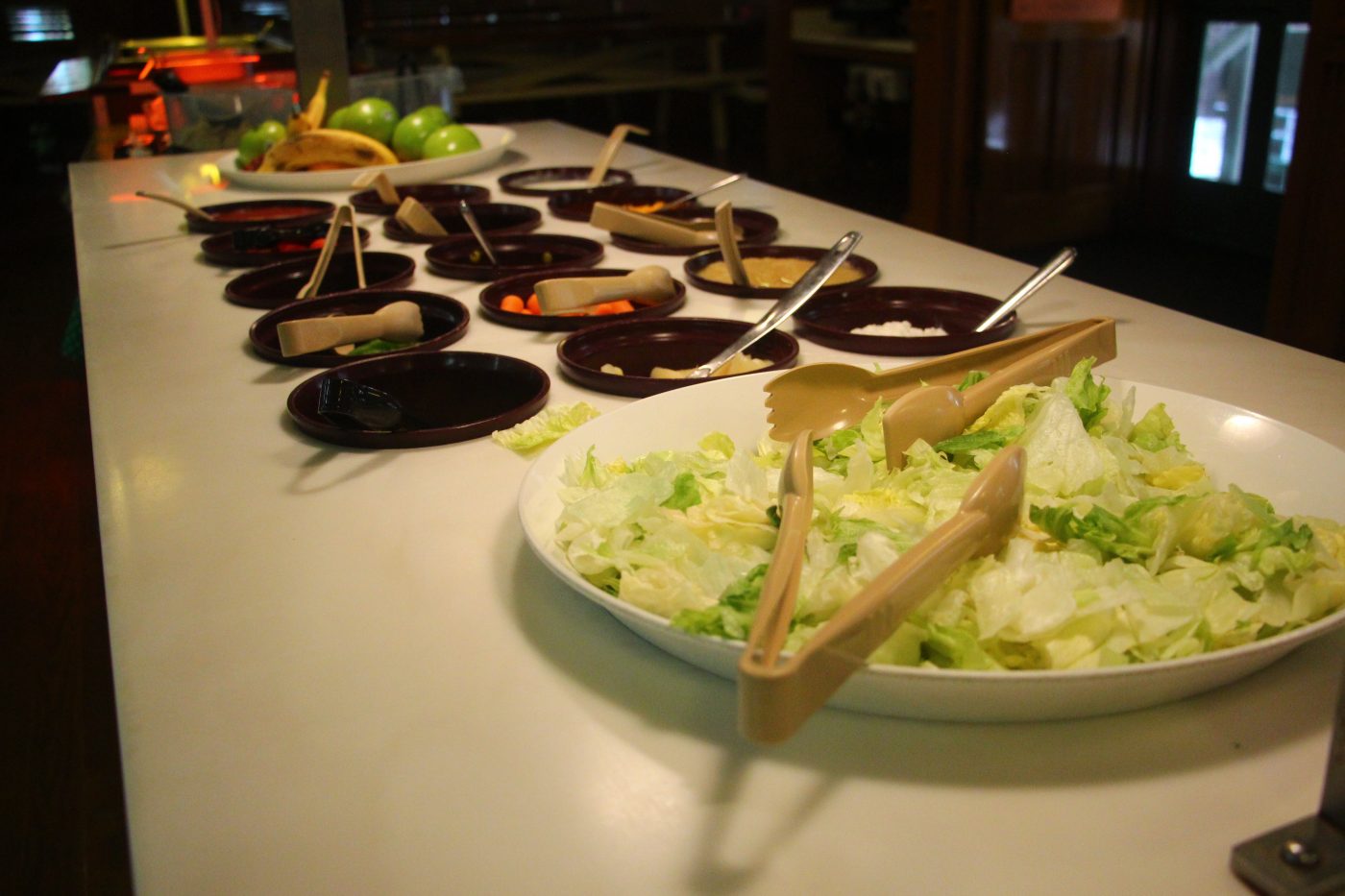 Electives
Putt Putt
Today at Boys Putt Putt, we went over the rules and then had 2 Dropout Contests. The winners were Samuel Becdach and Will Adkins.
Today at Girls Putt Putt, we went over the rules and then had 3 Dropout Contests. The winners were Sarah Parker Lowery, Suzanne Anstead-Jaacks, and Caroline Calhoun.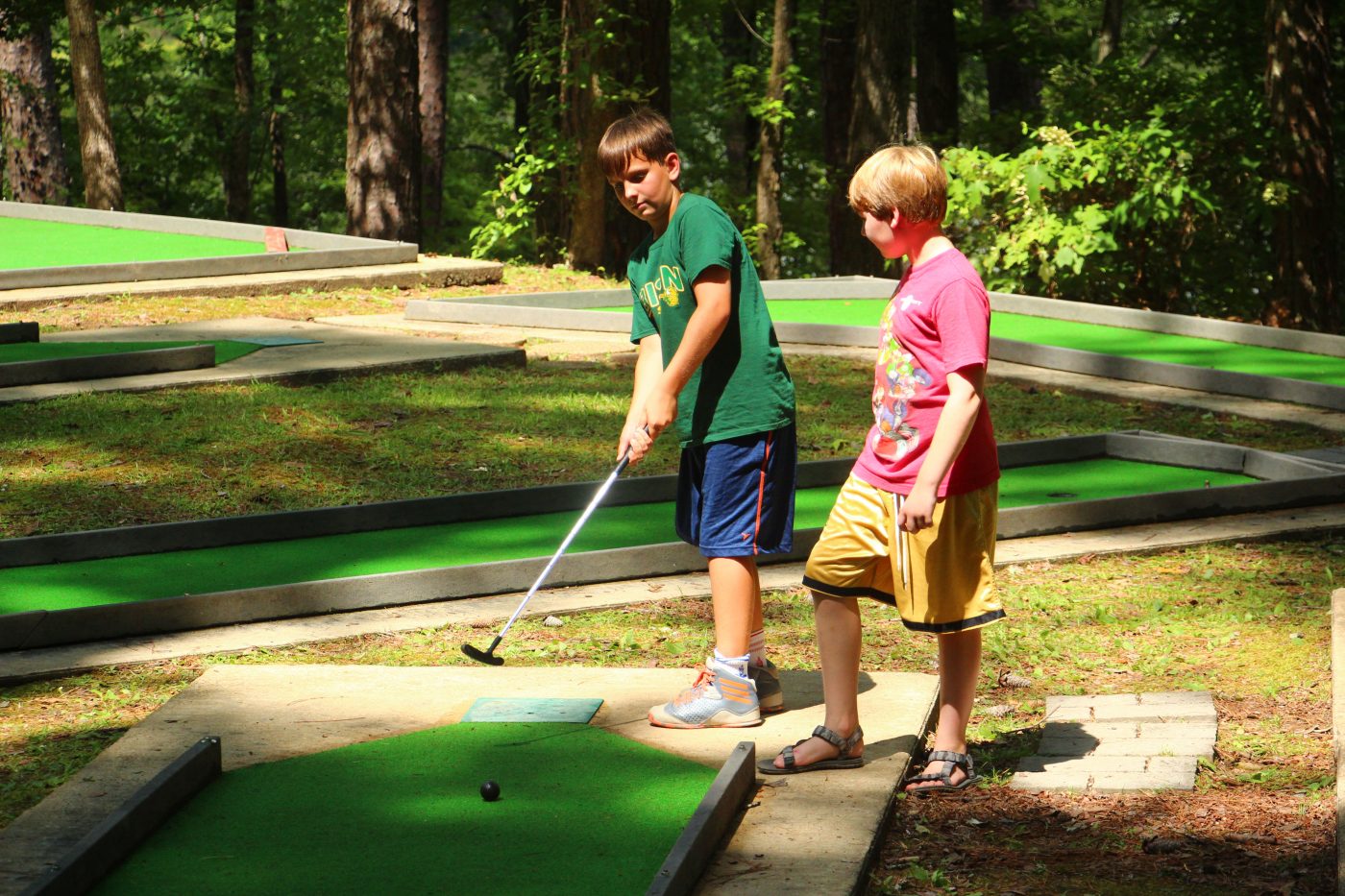 Tramps
Today at Tramps, both the boys and the girls had a High Jump Contest. For the girls, Mary Jack Gordon was the winner! For the boys, Connor Neese hopped over all the competition and won.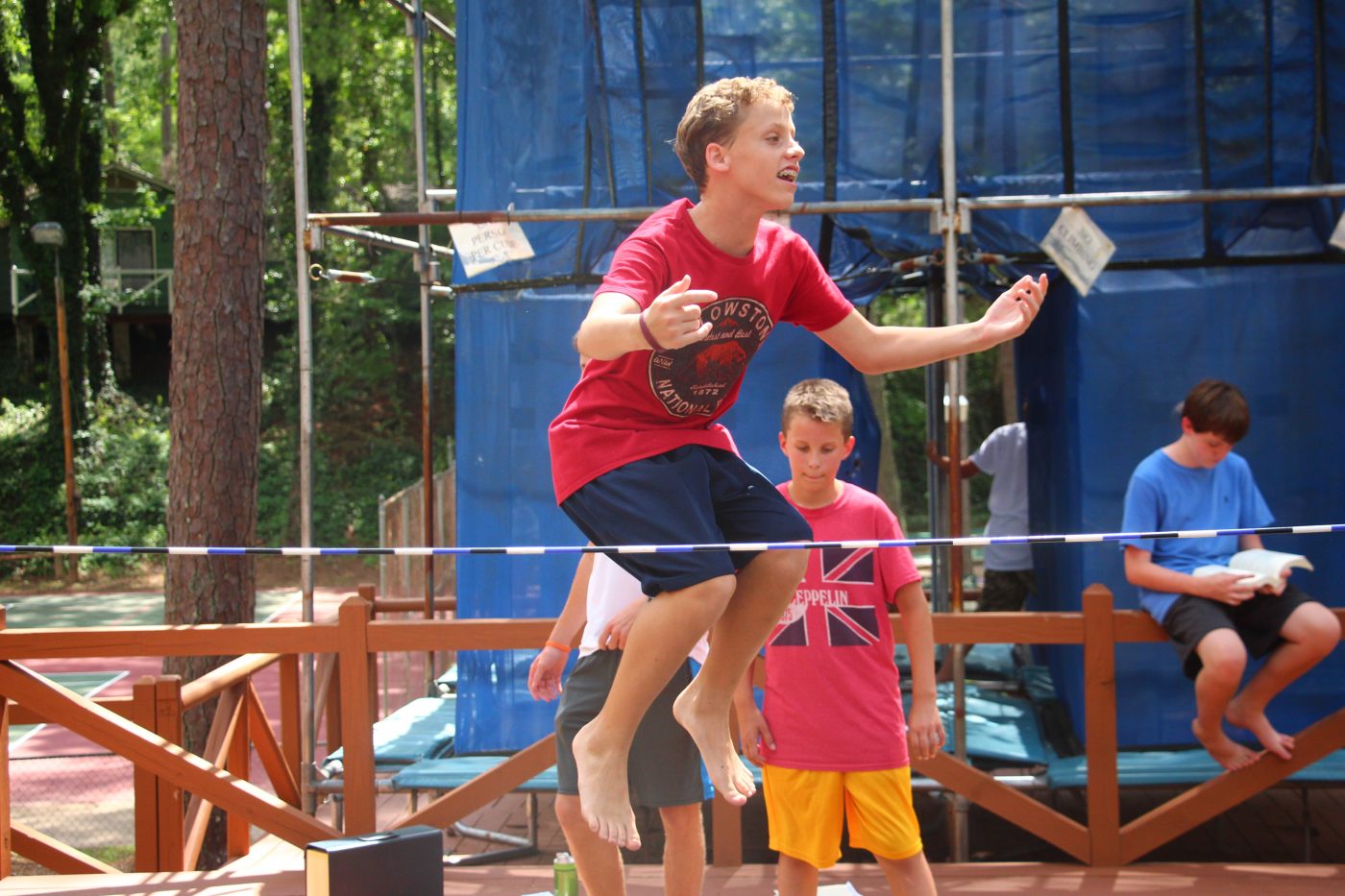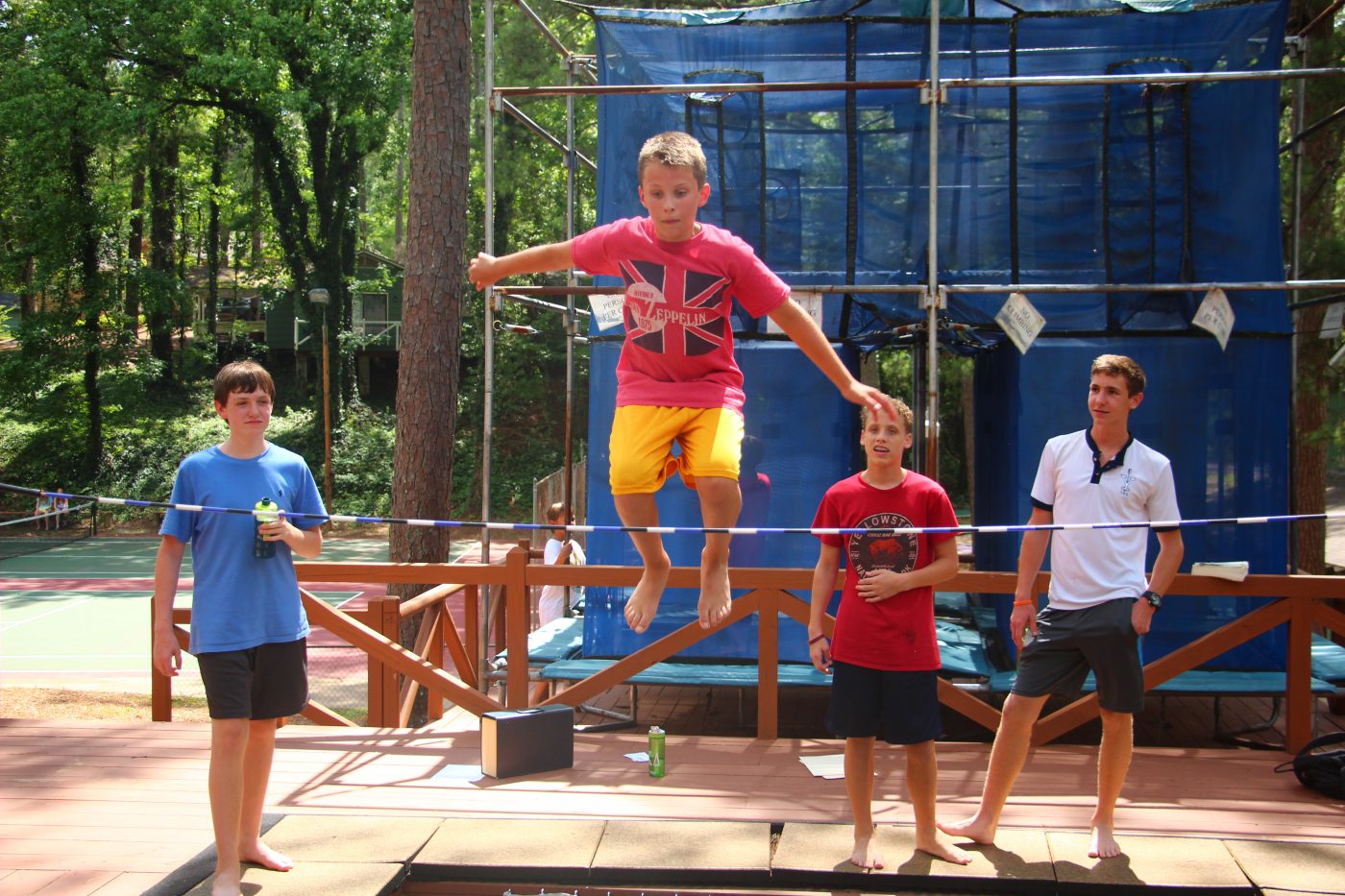 Fishing
Today at fishing, Joe Druhan and Caroline Peebles each caught a fish!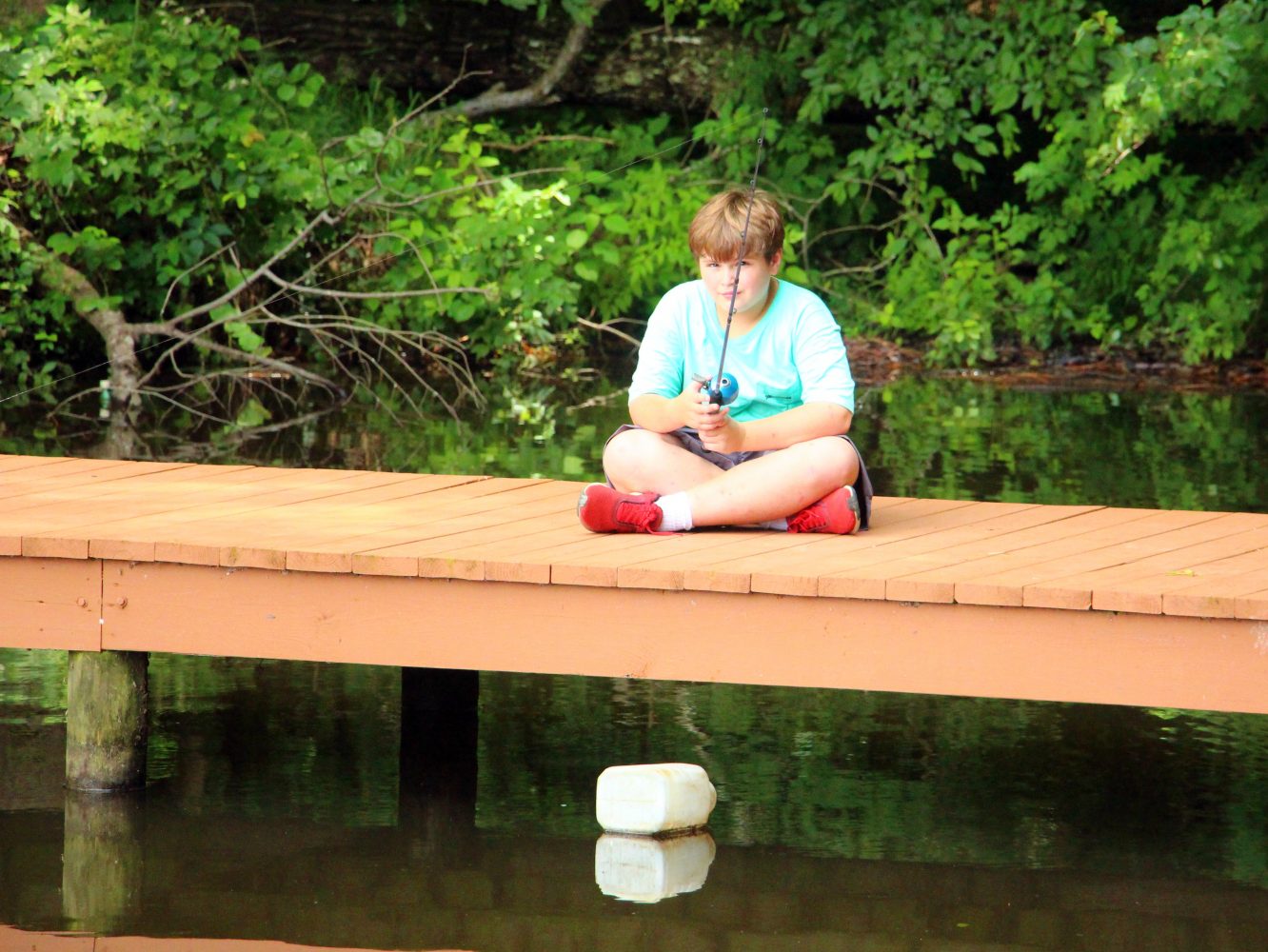 League Games
Today on Court 1, Roma's Rockin' Tomatoes rocked the Maiya's So-Kool Money Makers in a back-and-forth game of newcomb. From the Money Makers, Madison Yi made it rain and from the Tomatoes, Sadie Carrington rocked out like a true pro.

Today on Court 2, Jenna's Jumping Jelly Beans dominated Meg's Dope Nuggets in a riveting game of newcomb. From the Nuggets, Sadie Leland was all over the court and from the Jelly Beans, Libby Jacobs played like a young Marlis Herrick.

Today on Field 1, Christie's Knows Best squeezed by Lil's Lils in an intense game of softball. From Knows Best, Emma Weidmer played better than a young Lily Weidmer and from Lil's Lils, Abi Gregory played amazingly!

Today on Field 2, Madeline's Pick-Me-Ups blinded I Can See Cleary Now. From the Clearys, Kate Moreland had 20/20 vision, and from the Pick-Me-Ups, Emily Daniel was stellar.

Today on the Soccer Field, AFA's All Stars beat Shiver Me Timbers in a heated game. From the All Stars, MK Moore was a champ. From Shiver Me Timbers, Adeline Sinkwich played amazingly.

Today in the gym, Mize on the Prize demolished Chapy's Happy Campers in a close game of Bombardment. From the Mize on the Prizes, Ava Gregory played like a baller. From the Happy Campers, Mary Eason Robinson played like a dodgeball star.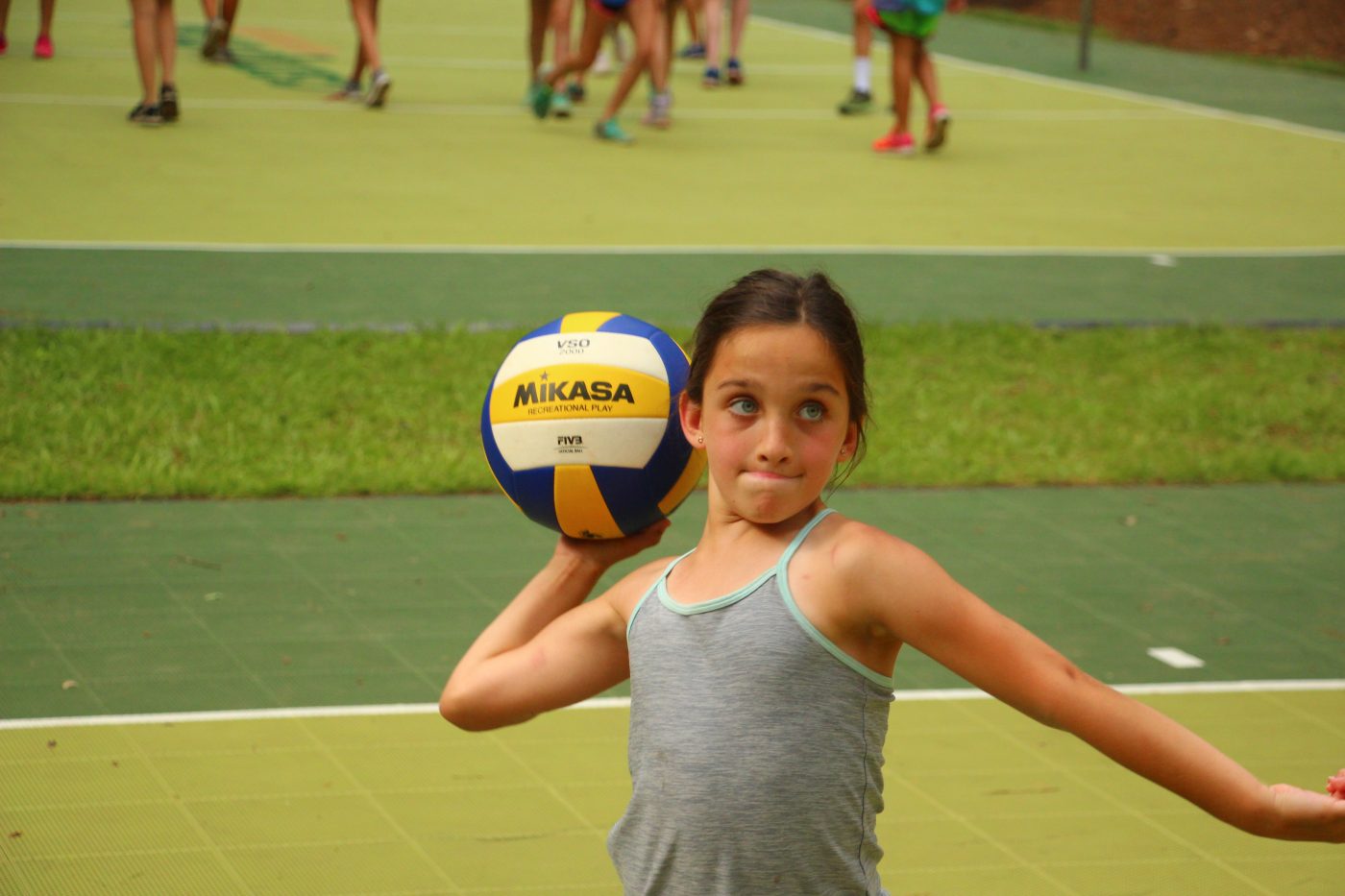 Cabin Time
Buckin' Bull
Today, B-5 came down to the Buckin' Bull and had a blast! The boys stayed on the Bull for impressive amounts of time.
William Crawford - 2:16.43
Jake Magid - 1:33.86
MacGregor Tuten - 31.13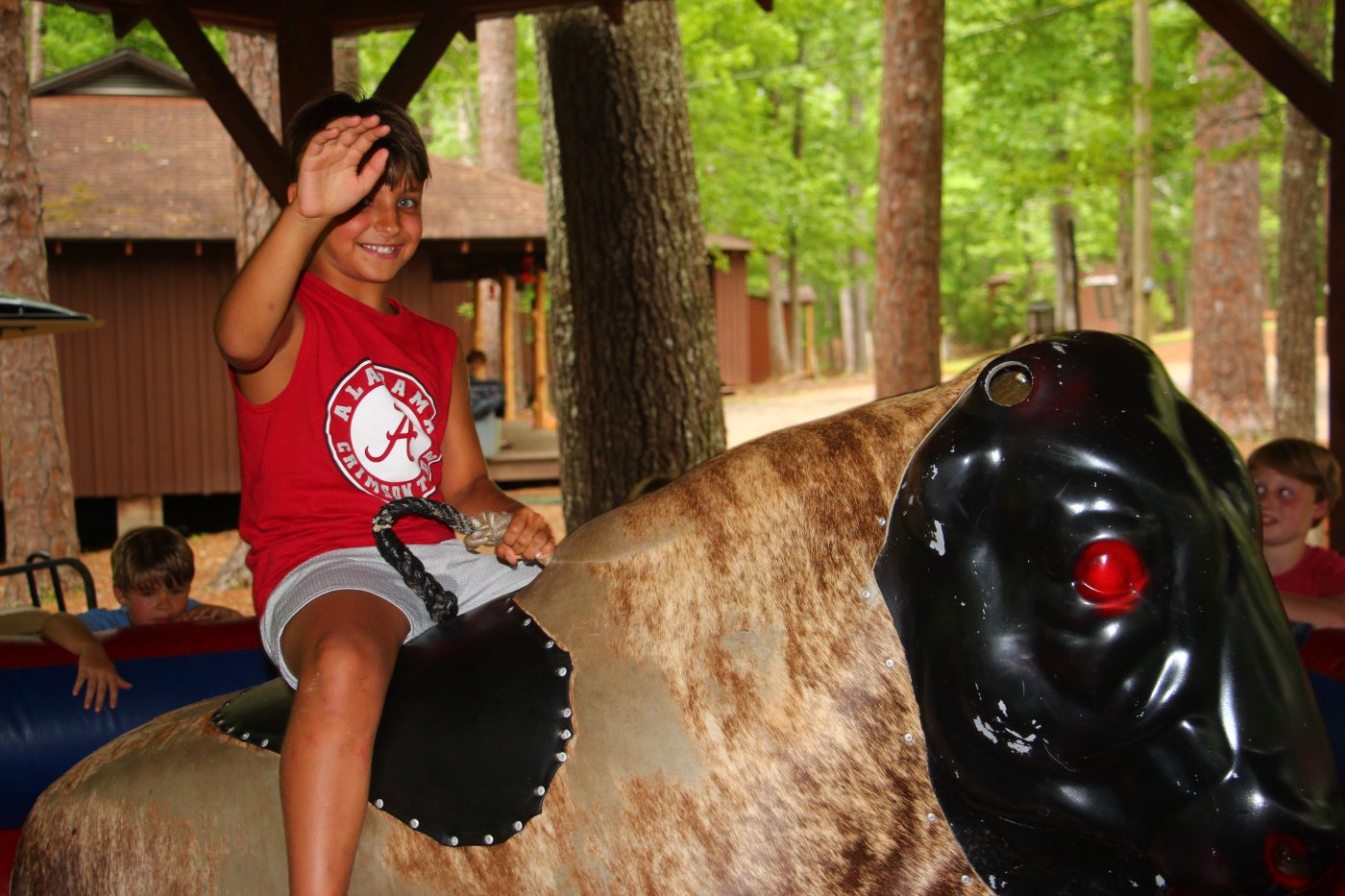 Vespers
Tonight, our choir was G-2, and Austin Butler, Wyatt Long, and Will Fiedler delivered our message.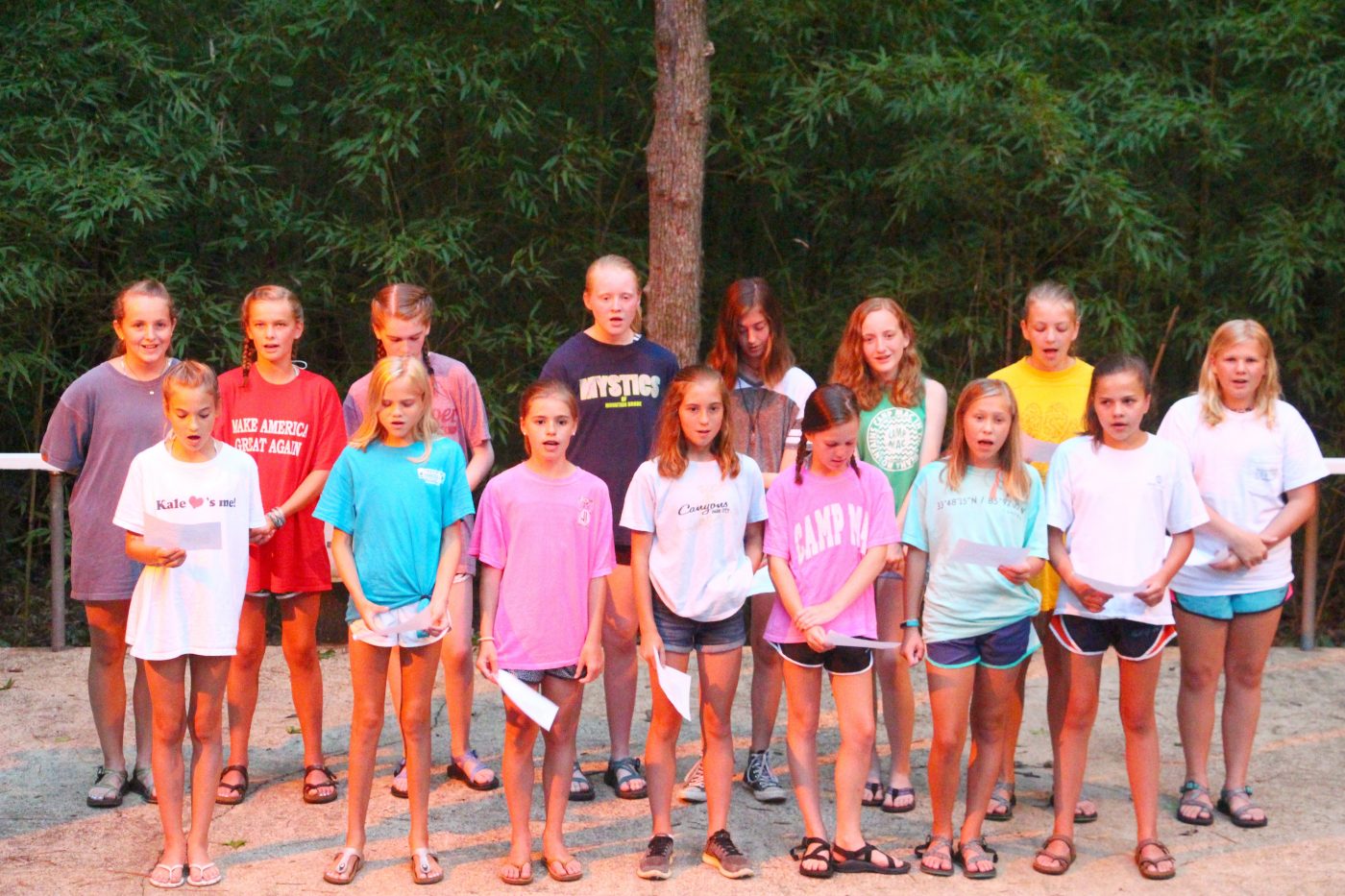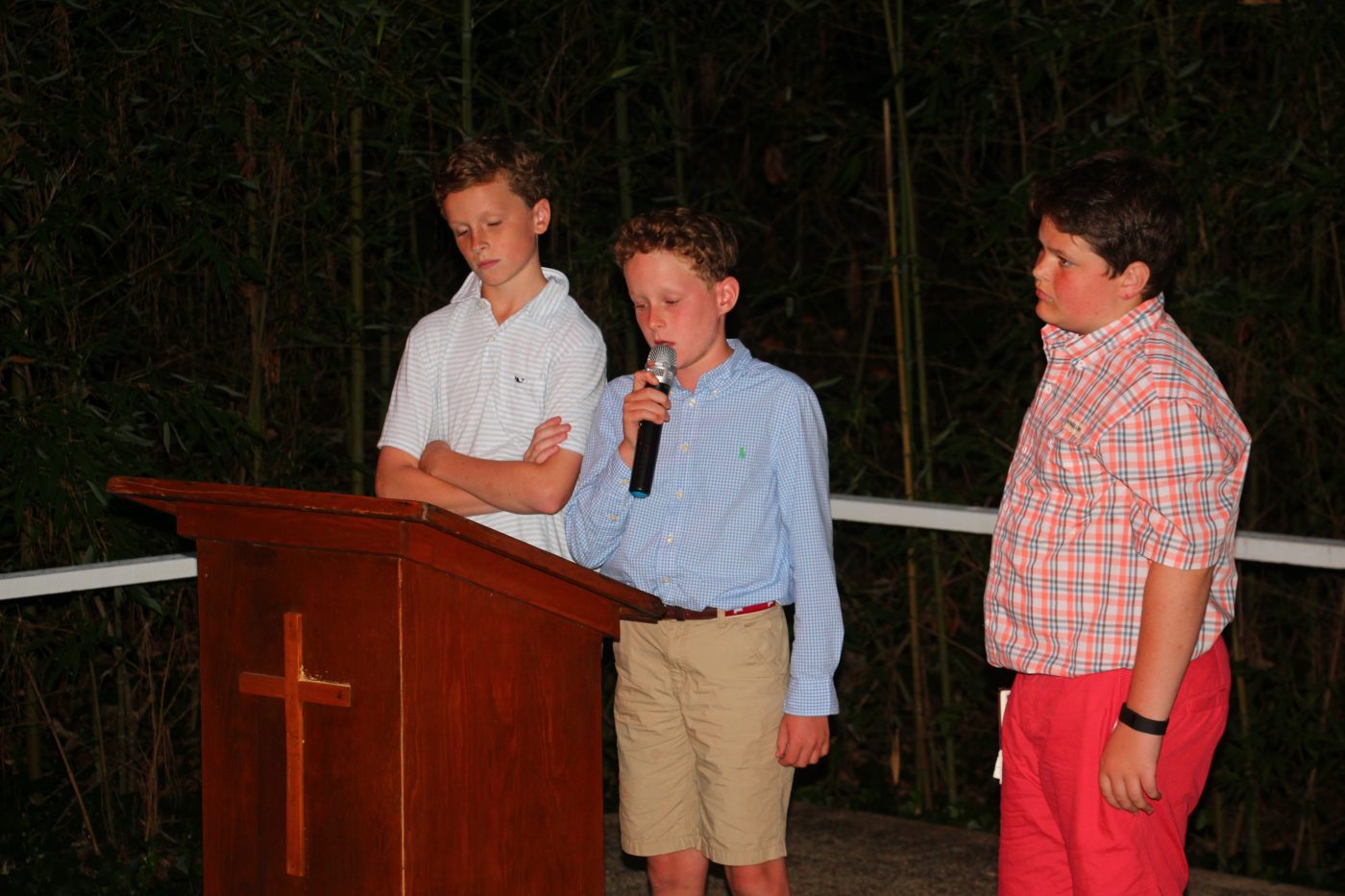 Tonight, for Night Rec, We Got...
Seniors
College Night!