Morning Activities
Riflery
Dudes:
Joe Joe Mahfet- 30
Charlie Walker- 34 & passed off pro-marksman
Drovers:
Mack Marston-31
Ben Arnold- 32
Gray Bias- 36
Andrew Wallace- 39
Cooper Kennedy- 37 & 41
Wranglers:
Chris Price- 34
Rough Riders:
Joe Druhan- 30
Cooper Wyatt- 38
Skiing
At Upper Lake:
Reagan Christ & Mallory McDonald passed off 3rd kneeboarding.
Anne Roberts passed off 3rd class skiing.
Evie Tuten passed off 2nd class skiing.
Madison Smith got up on skis for the 1st time.

At Lower Lake:
Caroline Peebles passed off 2nd class kneeboarding.
Caroline Calhoun passed off 2nd class skiing.
From the Dining Hall
This morning we woke up and had blueberry muffins, bagels, cream cheese, fresh fruit, juice, milk, and assorted cereals. For lunch, we had chicken sandwiches, potato chips, PB&J, a salad bar, and iced brownies for dessert. For dinner, we had Salisbury steak, mashed potatoes & gravy, green peas, fried okra, and yeast rolls. A salad bar, PB&J, and cookies were also available.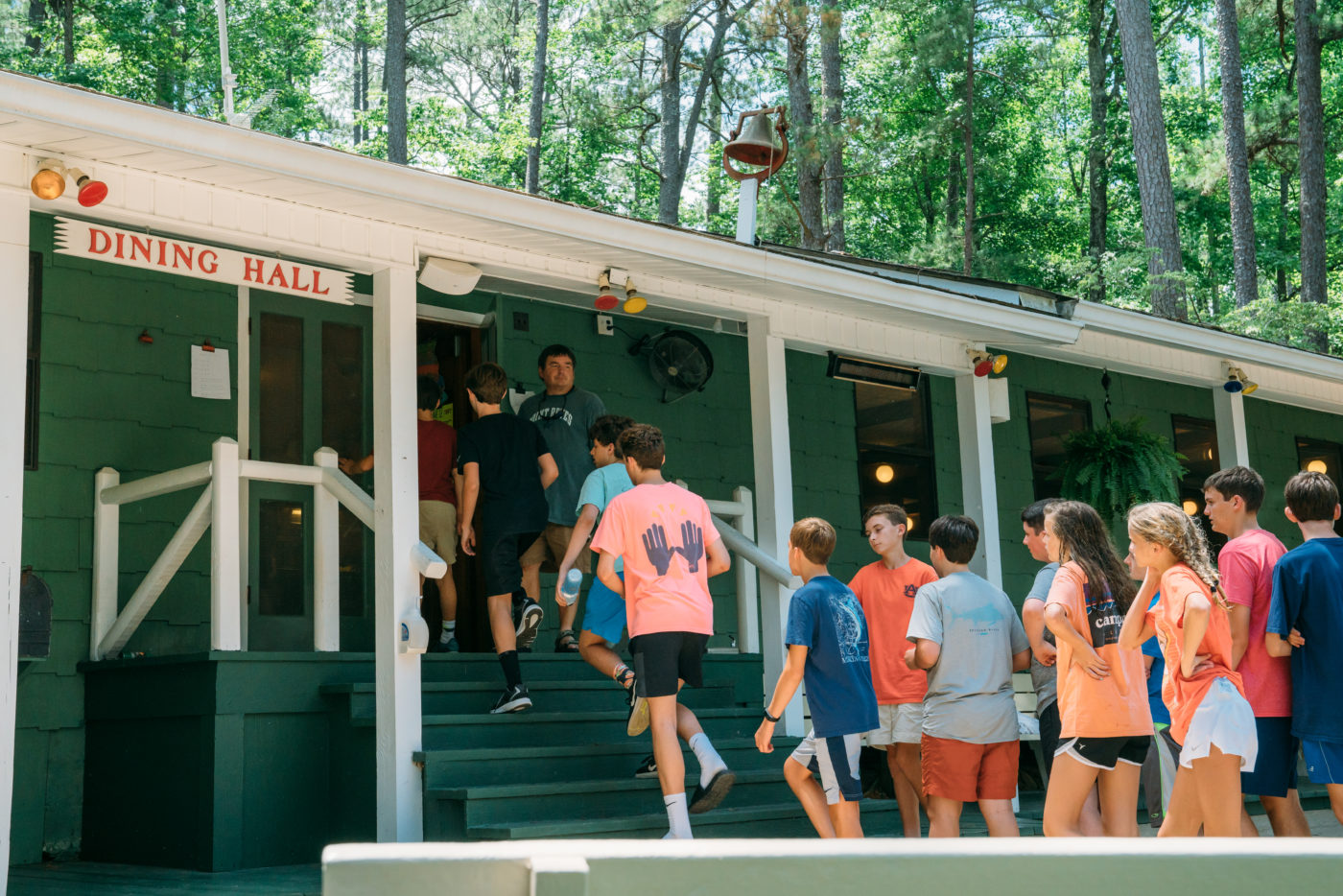 Afternoon Activities
Electives
Tramps
Boys:
Caven Burdick passed off 3rd class.
Jake Spear passed off 3rd, 2nd, & 1st class.
Andrew Wallace passed off 3rd class.
Will Harris passed off 3rd class.

Girls:
Rhea Mostellar passed off 3rd & 2nd class.
Anderson Long passed off 3rd & 2nd class.
Sophie Robbins passed off 3rd & 2nd class.
Margaret Krawczyk passed off 1st class.
Archery
Boys:
Kyle Norris passed off Jr. Bowman.
Will Fiedler passed off Bowman.
Baden Wallace passed off Bowman Sharpshooter.
Logan Mastaw passed off Archer Sharpshooter.

Girls:
Joan Taylor passed off Jr. Yeoman.
Sarah Beth Rikard passed off Bowman First Rank Medal.
League Games
On Court 1, Ada's Bettas was crushed by Chappy's Champs. From the Champs, Lily Close played like a young Caroline Christie. From Ada's team, Joan Taylor was a boss.

On Field 1, Bennetts In-It to Win-Its dominated The Pain is in The Sprains. From Bennett's team, Charlotte Robbins played the game; and from the Sprains, Kate Wheeler played like she had an unsprained ankle.

On Field 2, Cayden Cam-uh-Wins toasted Meggo's Eggs. From Cayden's team, Mary Catherine Martin caught well. From the Eggos, Kate Moreland played like a hot waffle.

On the Soccer Field, Maiya's Fiya Papayas beat the Yannies. From the Papaya's, Brooke Oakley played like Messi, and Ella Gehring made Yanny proud.

In the Gym, Wiedmer's Winning Witches zapped There's Snow-losing. From the Witches, Anna Gracelyn Emerson played magically. From Snow-losing, Sophie Robbins played great.
Cabin Time
While the girls were at League Games, the boys had Cabin Time!

B-5 went to the Blob.
B-4 went to the Iceberg.
B-3 went to the Wet Willie.
B-2 went to the Obstacle Course
B-1 & Chinnabee faced-off at the Water-Balloon Battlefield.
B-0 had rapelling.
6 O'clock News
Tonight, we revealed our 3 year shirts!

Camper have have been attending Camp Mac for 8 years this summer received shirts. These campers were:
Emily Daniel
Sophie Dishman
Sarah Parker Lowery
MK Moore
Kathleen O'Neal
Vespers
Tonight our speaker was Will Fischer, and our Choir was G-2.
Tonight For Night Rec, We Got...
Senior Cabins
College Night!
Junior Cabins
The junior girls had Swim Meet practice, and the junior boys had courts.
Visit our Photo Gallery to see the day's pictures! (Images do not necessarily corellate with the names of campers mentioned in corresponding news article.)